We are pleased to announce the release of version 2 of iUndelete!
iUndelete helps you recover deleted documents, photos, archives or any other file type from hard disks, removable drives, camera memory cards etc.
Unlike many other deleted file recovery utilities, iUndelete tries to make deleted file recovery as simple as possible. Although file systems are complex, the procedure for locating deleted files is fairly straight forward because the file system itself is intact. iUndelete's interface reflects this 'straight-forwardness' by avoiding the need for 'wizards' as seen in so many other, overly complicated deleted file recovery utilities.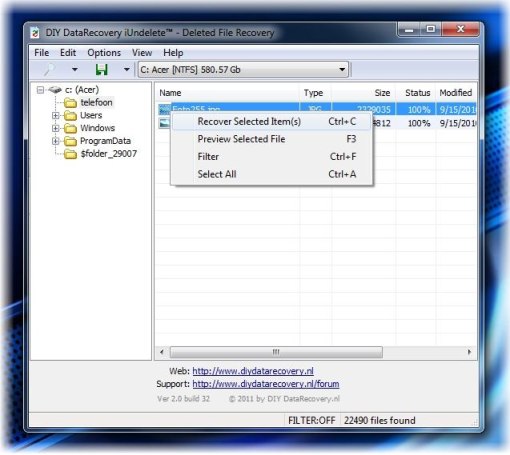 Fixes and new features in this version include Windows 7 compatibility, a new interface, added an image preview and added a long scan.
More info:
http://www.diydatarecovery.nl/iUndelete.htm
Download:
http://www.diydatarecovery.nl/downloads/Demo/iUndelete_Setup.exe
Please email us for upgrades (
support@diydatarecovery.nl
), make sure to include your order ID.